How It Works
We keep things simple for you and your renovation team.
1. Select a Design
Choose a design from our catalog. Need help deciding? Contact us and we can help.
Shop Designs
2. Purchase & Download Design Documents
Once you purchase a design, you'll be emailed links to download all the design documents.
3. Use On Your Project
Our documents are made to be easily shared with your team. Seriously, you can hand them off and walk away. Our documents are all printer-friendly in 8.5 x 11 format, so you can print them at home or share them digitally.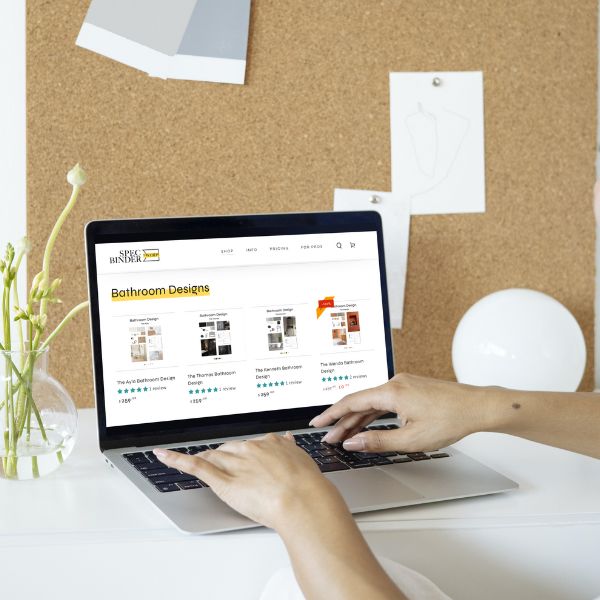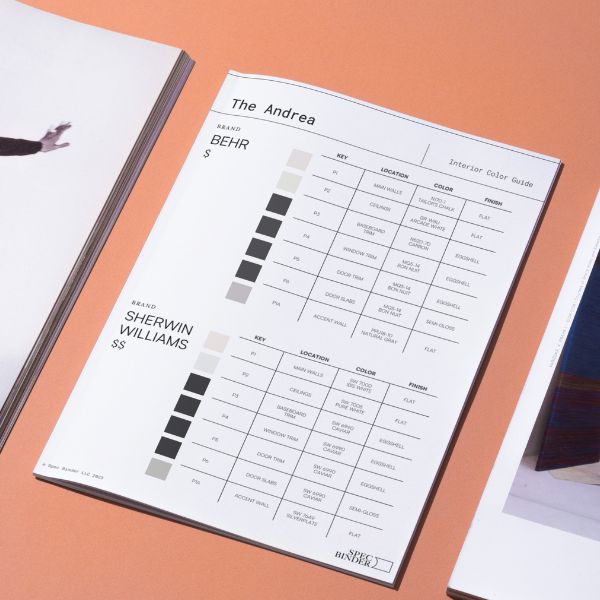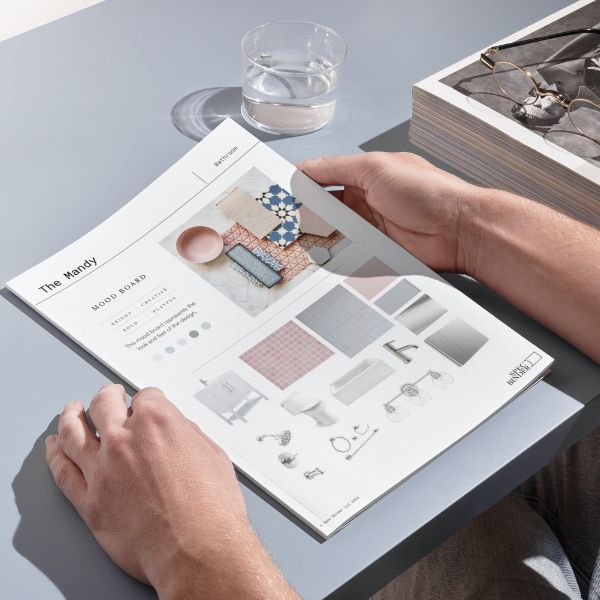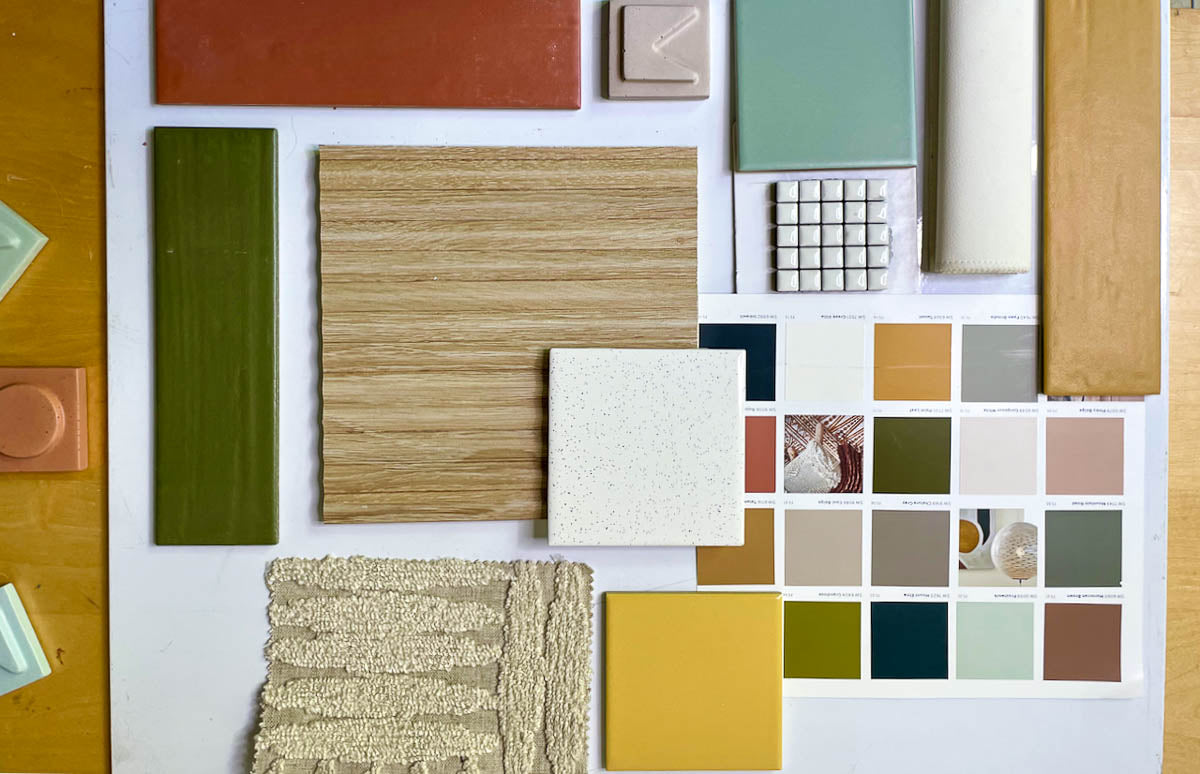 What's Included
Our ready-made interior design downloads include all the documents you need to get to work. Hand these interior design documents off to your team or job site and rest easy knowing that all the design decisions are pre-made for your project.
Depending on the design download you select, your documents will include some or all of the following (see each product page for a specific list of what's included):
3D Renderings & Reference Images

Our 3D interior renderings and reference images take the guesswork out of design decisions so it's easier to visualize how a space will look before beginning work.
Mood Board

The mood board represents the overall look and feel of the design. It can be used to get a general reference when shopping for materials or as a piece of advertising collateral if you're working on your own development project.
Design Brief

The design brief lays out the finishes, colors, materials, and hardware on one single page. It's a simple way to visualize all of the products needed for the project.
Color & Finish Palette

The color palette shows the colors and finishes in each design. This gives a sense of each design's color scheme and vibe.

Our paint palettes include the matching hardware, flooring, and finishes that we recommend for the selected color scheme.
Paint & Tile Schedule

Spec Binder's comprehensive paint and tile schedules save significant time and avoid little questions like 'what tile layout and grout color do we use?' or 'should the baseboard trim match the wall color?'

‍Each paint palette includes a traditional paint schedule with color codes from four paint brands at different price points Behr ($), Sherwin Williams ($$), Benjamin Moore ($$$), and Farrow & Ball ($$$$)).
Product Selections

Our product selections come from years of experience designing, renovating, and refinishing homes. We give you a detailed list of everything you'll need to achieve each design, from floor tile to door hinges. Each download includes specific product links as well as dimensions and specifications so you can find comparable items that fit your exact timeframe, budget, or supplier.
Wall Elevations

Spec Binder downloads comes with installation specific wall elevations so you can implement each design in a space of any size. Downloads may also include sub-contractor-specific installation sheets for electrical, plumbing, carpentry, tile, and paint.
Editable Budget Document

Included in each Spec Binder download is an editable budget spreadsheet that corresponds with the product recommendations list. This can be used to shopping lists, budget estimates, or project take-offs.
1-on-1 Phone Support (always included!)

We say Spec Binder gives you a designer without having to deal with a designer, but sometimes you might want to chat with a designer. If you have questions, don't worry. Each design download comes with a one-on-one 30-minute virtual consultation for homeowners, and free unlimited phone support for contractors and pros.

If you'd like a consultation without purchasing a design download, you can also purchase a phone consultation with our team.
Accent Wall Pairings

Our paint palettes include optional accent wall pairings, which is a fun way to refresh a space or add an additional pop of color. This keeps the palettes versatile- for example, you can use one palette in several rooms and still have it look fresh by incorporating an accent wall in one of your spaces.
Exterior Material Finishes + Finish Key

This is included in our exterior home designs, and it's one of our favorite offerings.

Our exterior material finish selections tell you everything you need to finish the exterior of your home and have it looking beautiful and cohesive. This includes selections for house body, pavers, roof, skirting, trim, window trim, door style, door trim, garage door style, gutters, hardware, and ground cover.

If you don't know what fascia and soffits are, we got you. Our pre-selected material finishes take the guesswork out of material selections and makes sure that you have all the materials you need for your contractor to get to work. By knowing all the materials you need upfront, your renovation can stay on schedule and on budget.

Our exterior finish key is a contractor-friendly document that tells your team where each material belongs. This is helpful for contractors so they don't have to waste time asking you a million little questions; with these documents they can get to work and keep your renovation moving.