The Kenneth Bathroom Design
---
$$ ($121-204/sq ft)
The Kenneth bathroom is a strong, bold, and modern bathroom design. This style is great for anyone who loves industrial looks and earthy materials. This bathroom design breaks away from traditional bathroom installations, by eliminating the need for tile completely. This no-tile bathroom uses a Moroccan Plaster application method. The concrete-look overlay is applied in two smooth coatings to create a seamless look, with no need for floor or wall tile, baseboards, or tiled niches. This design features a bright yellow door for a pop of color, and matte black hardware and fixtures to amplify the sharpness of this look. This is also very simple application technique, commonly used to achieve this organic industrial style. The Kenneth is tough yet sleek, and perfect for a modern home.
This design download includes all the design and technical materials to execute The Kenneth in a full bathroom and/or a half bathroom.
✓ 3D Renderings
✓ Mood Board
✓ Design Brief
✓ Product Selections
✓ Editable Budget Document
✓ Color & Finish Palette
✓ Paint & Tile Schedule
✓ Wall Elevations (sub-contractor-specific installation sheets)
✓ 1-on-1 phone support session
Regular price

Sale price

$259.00
30-minute design consultation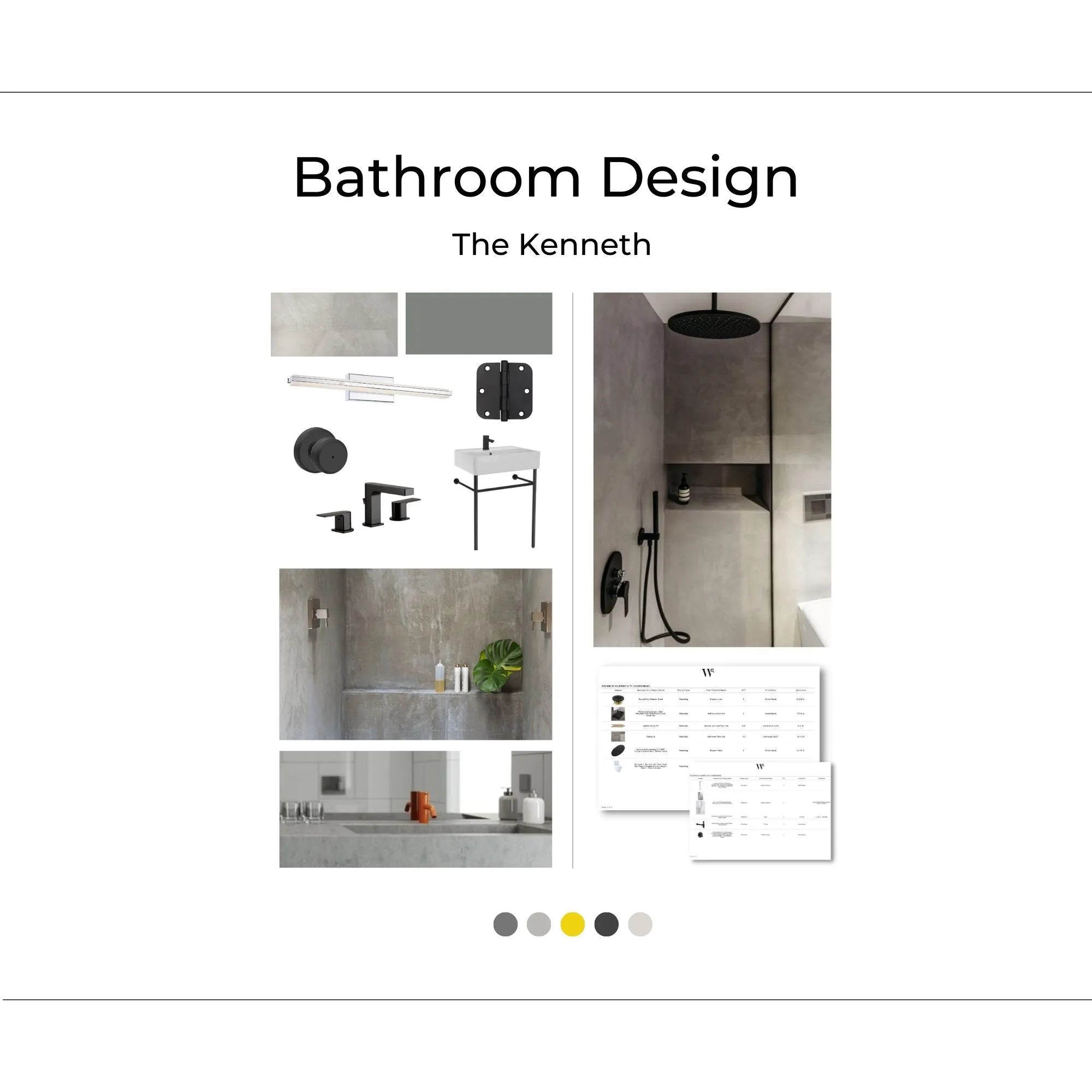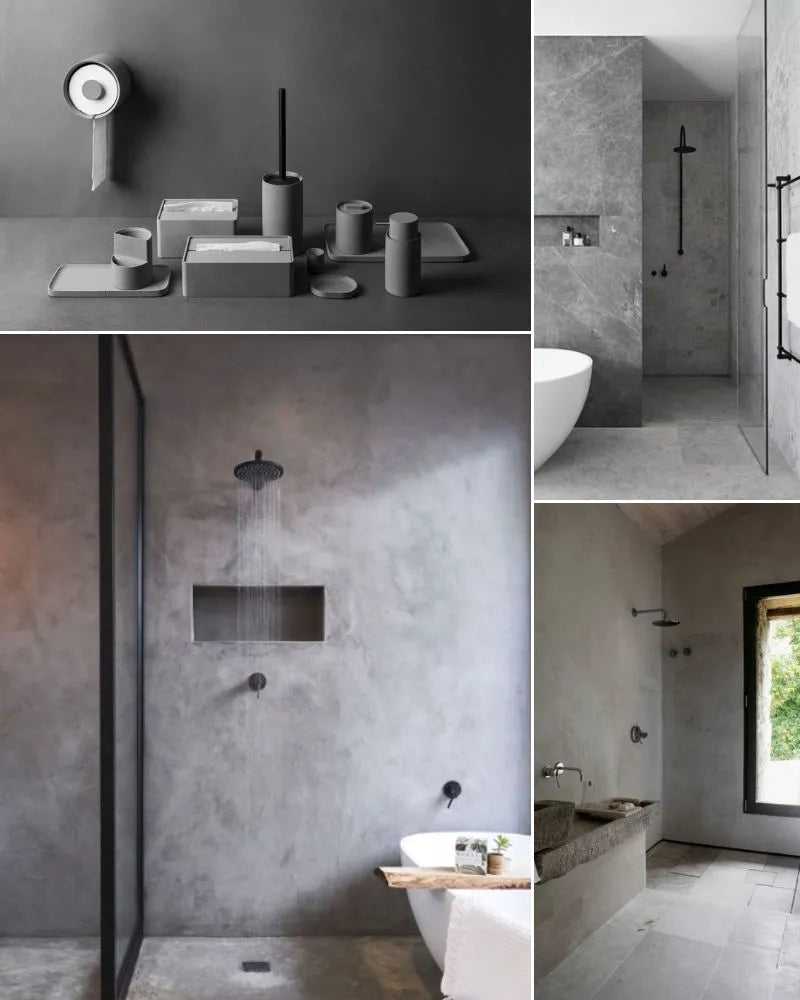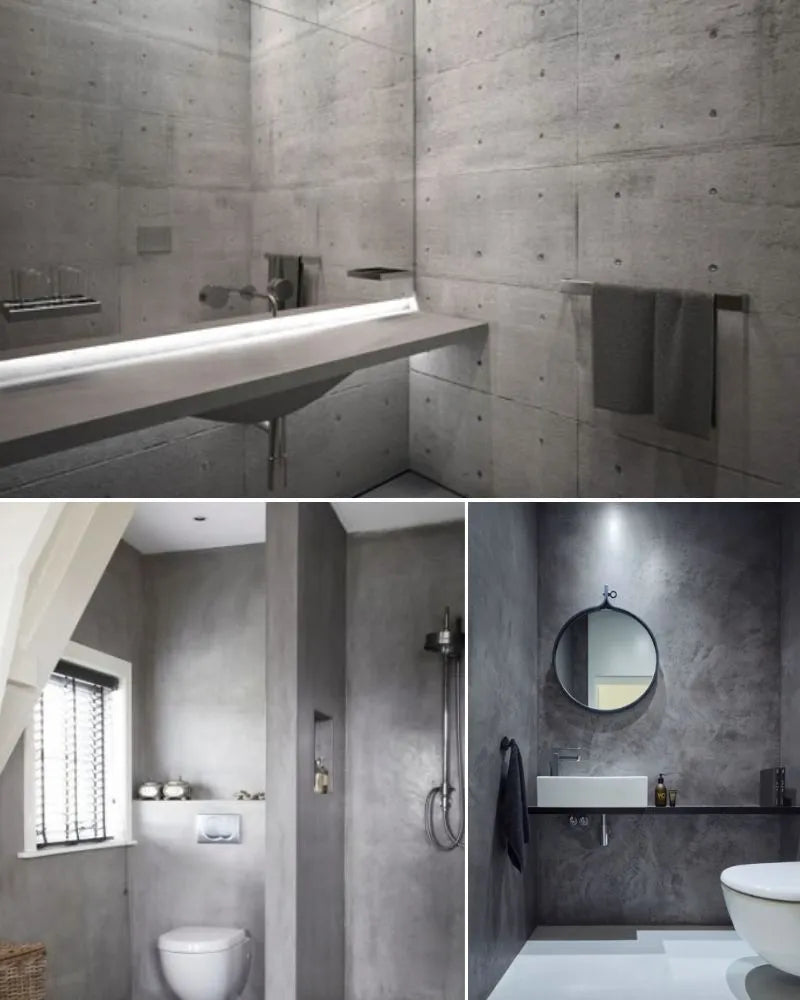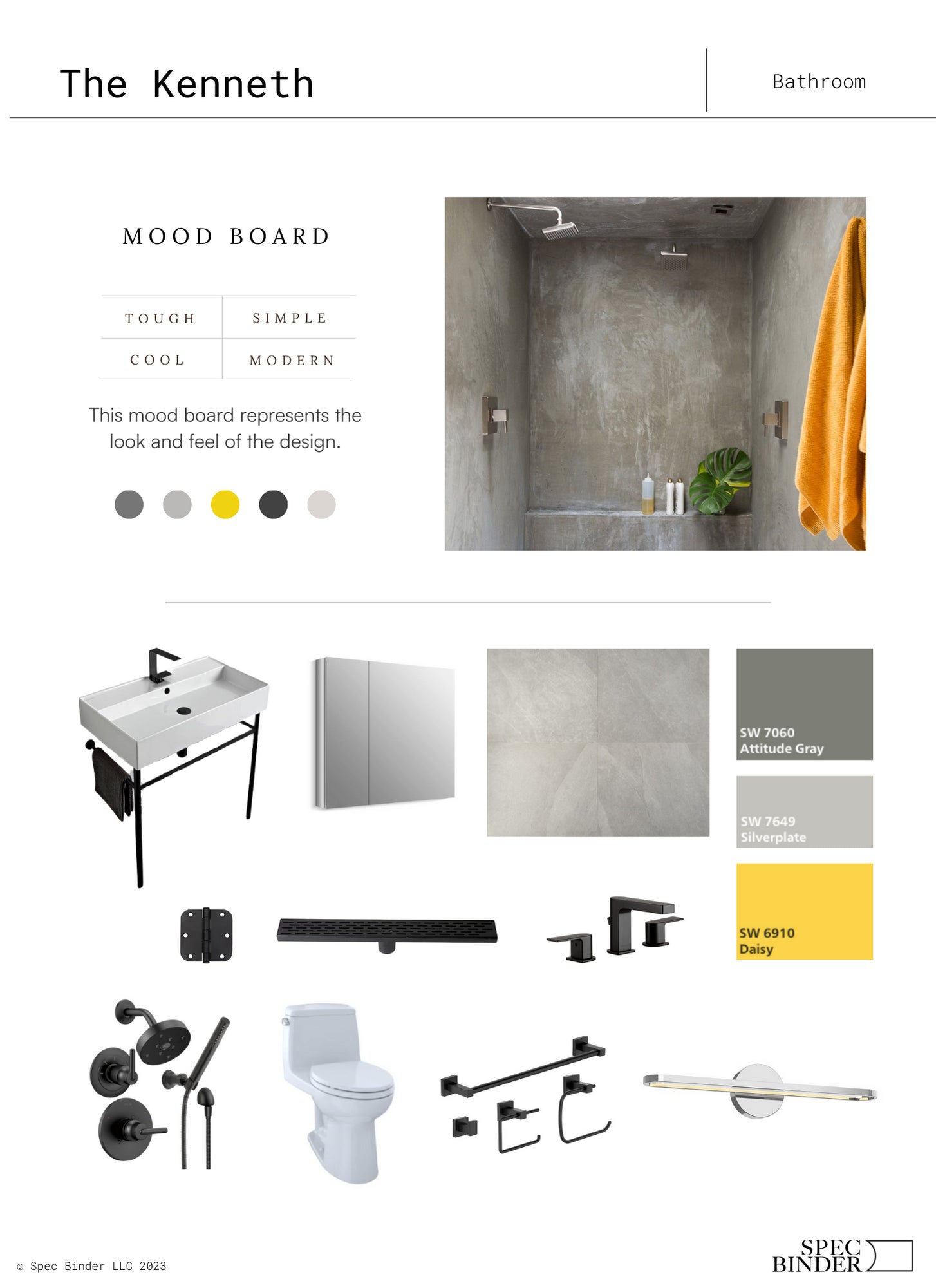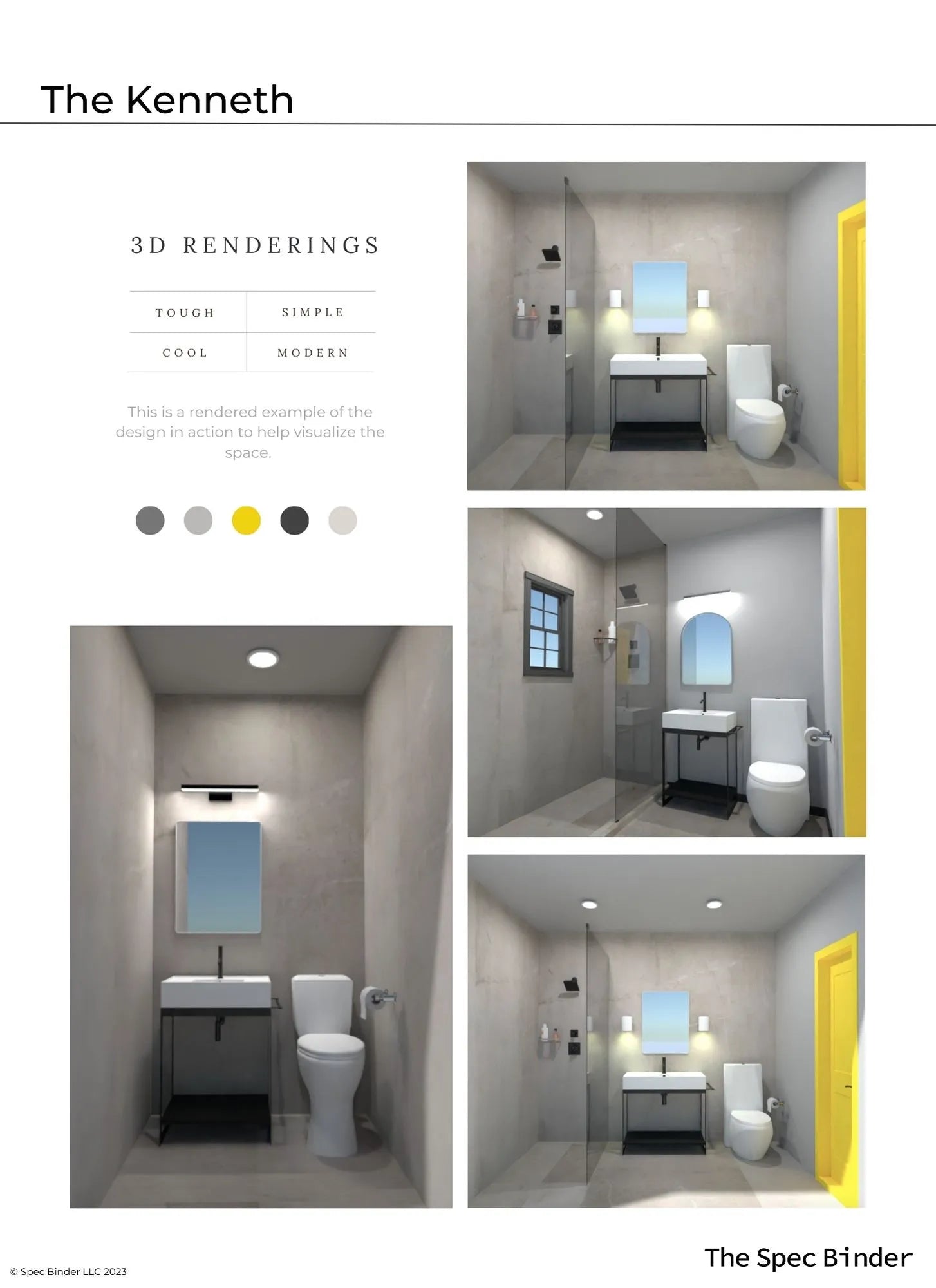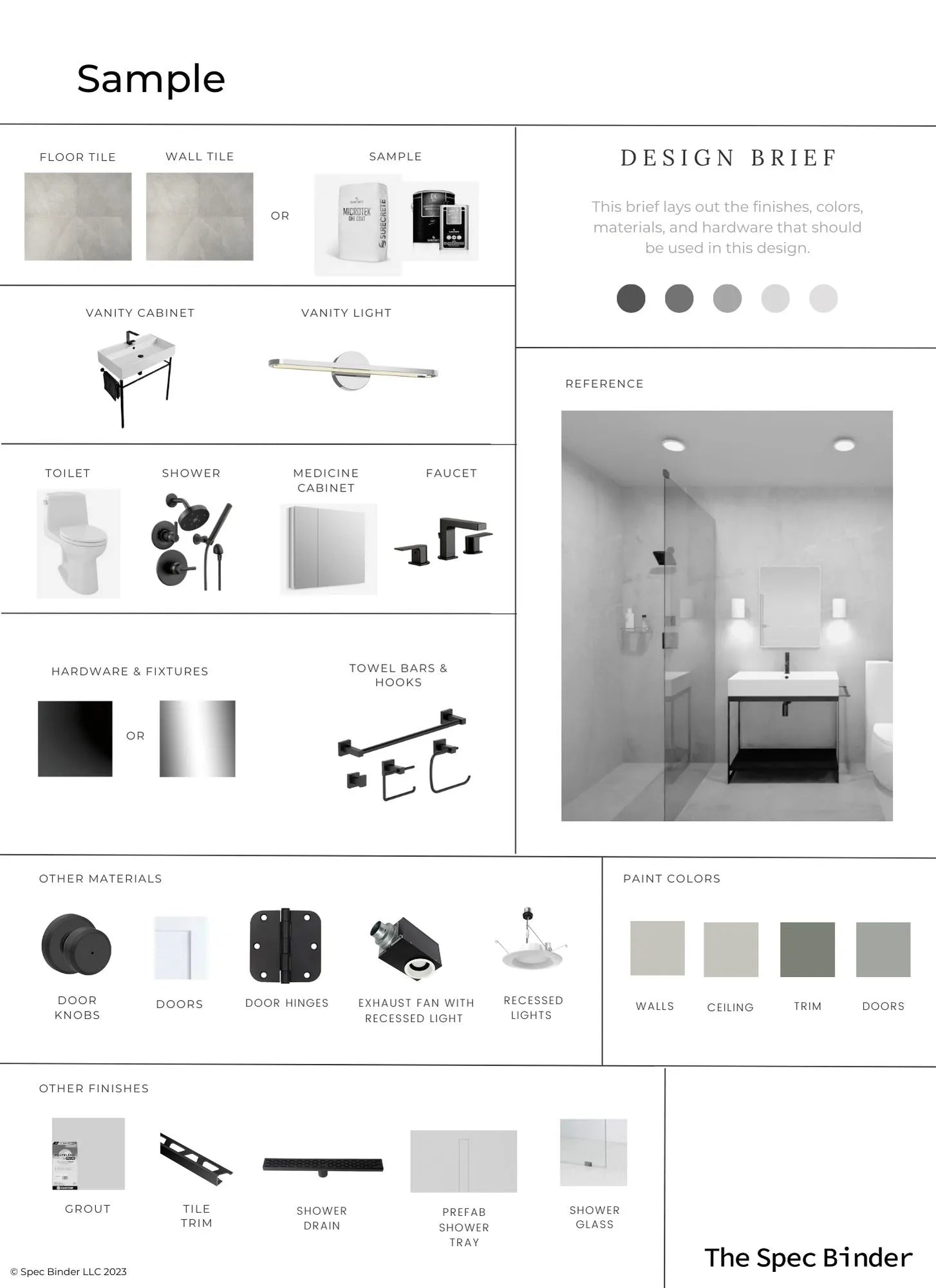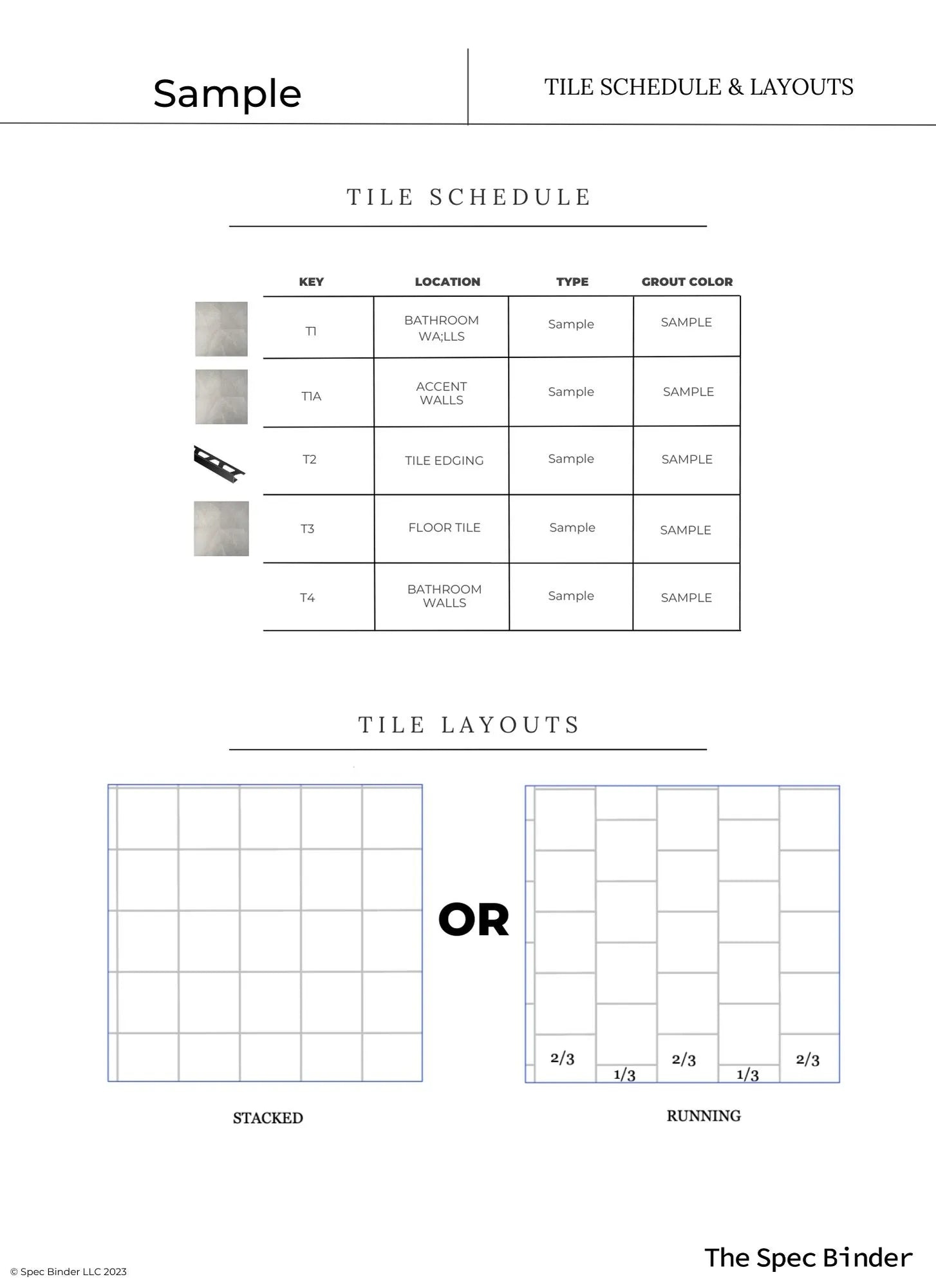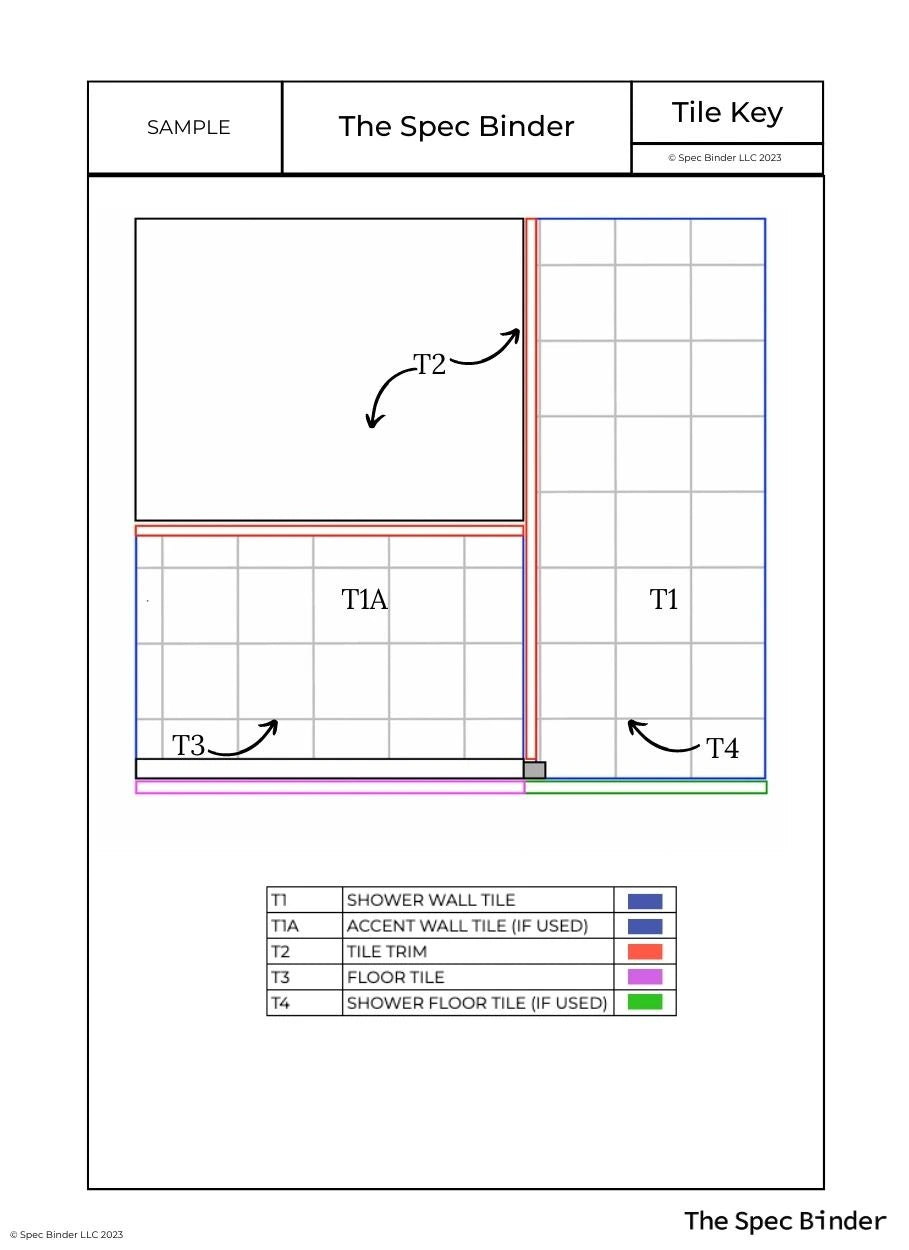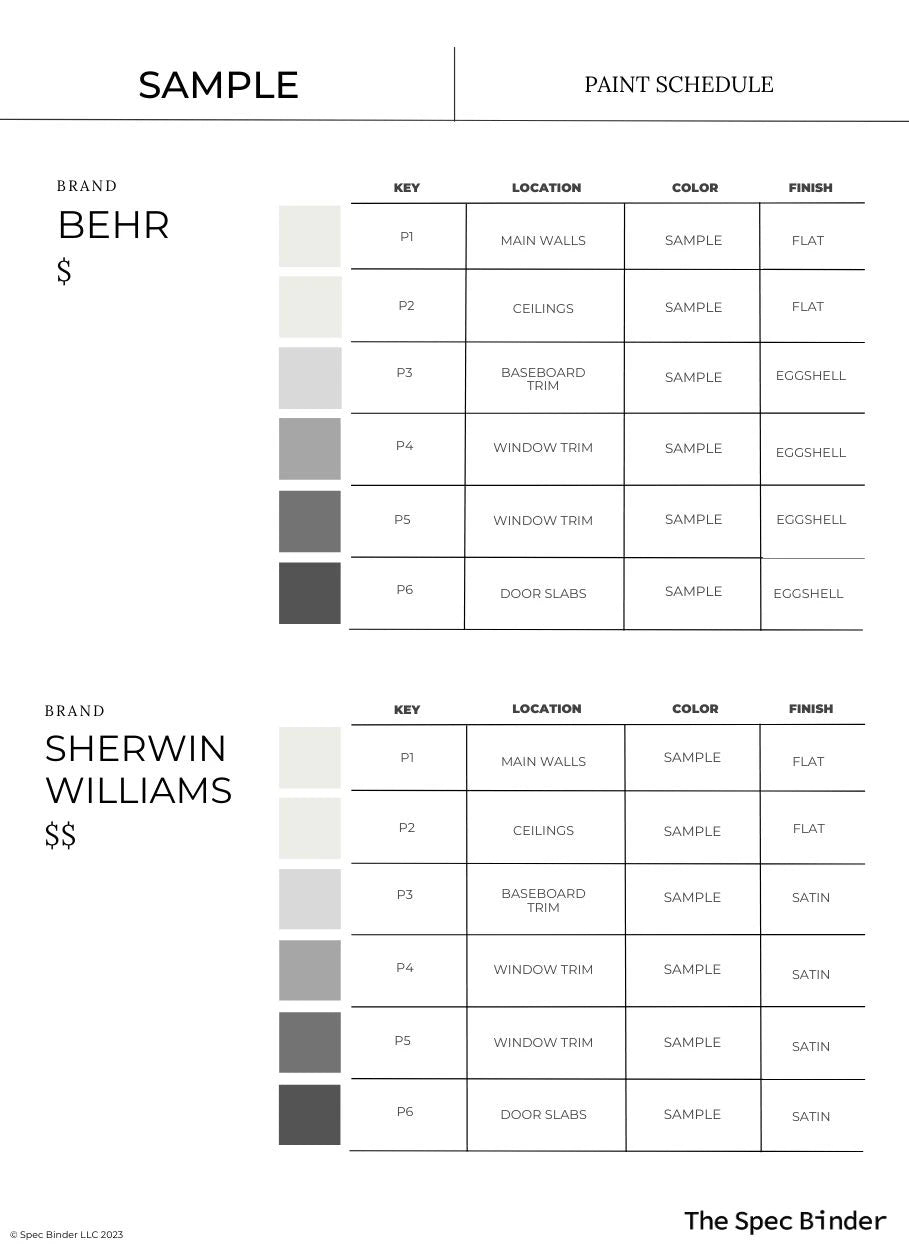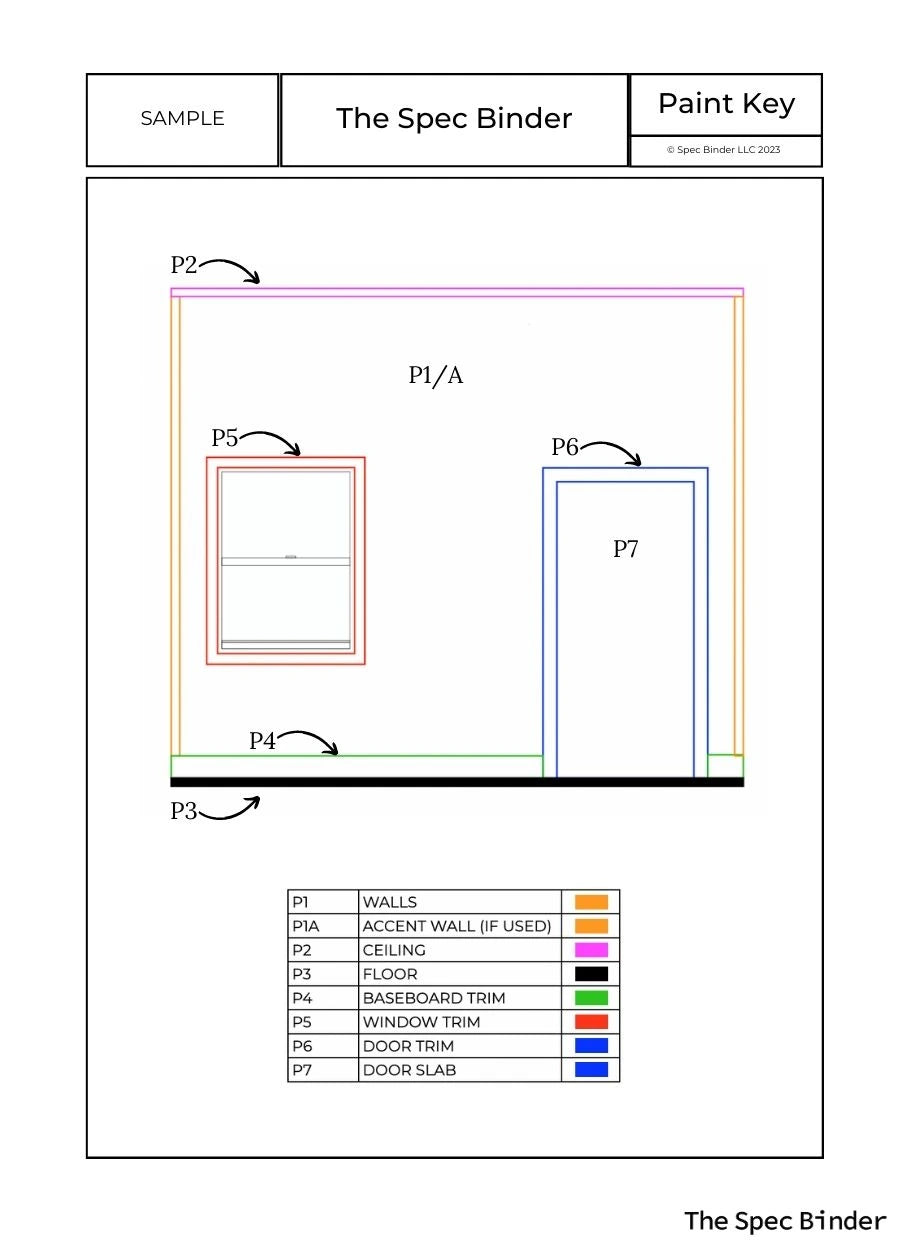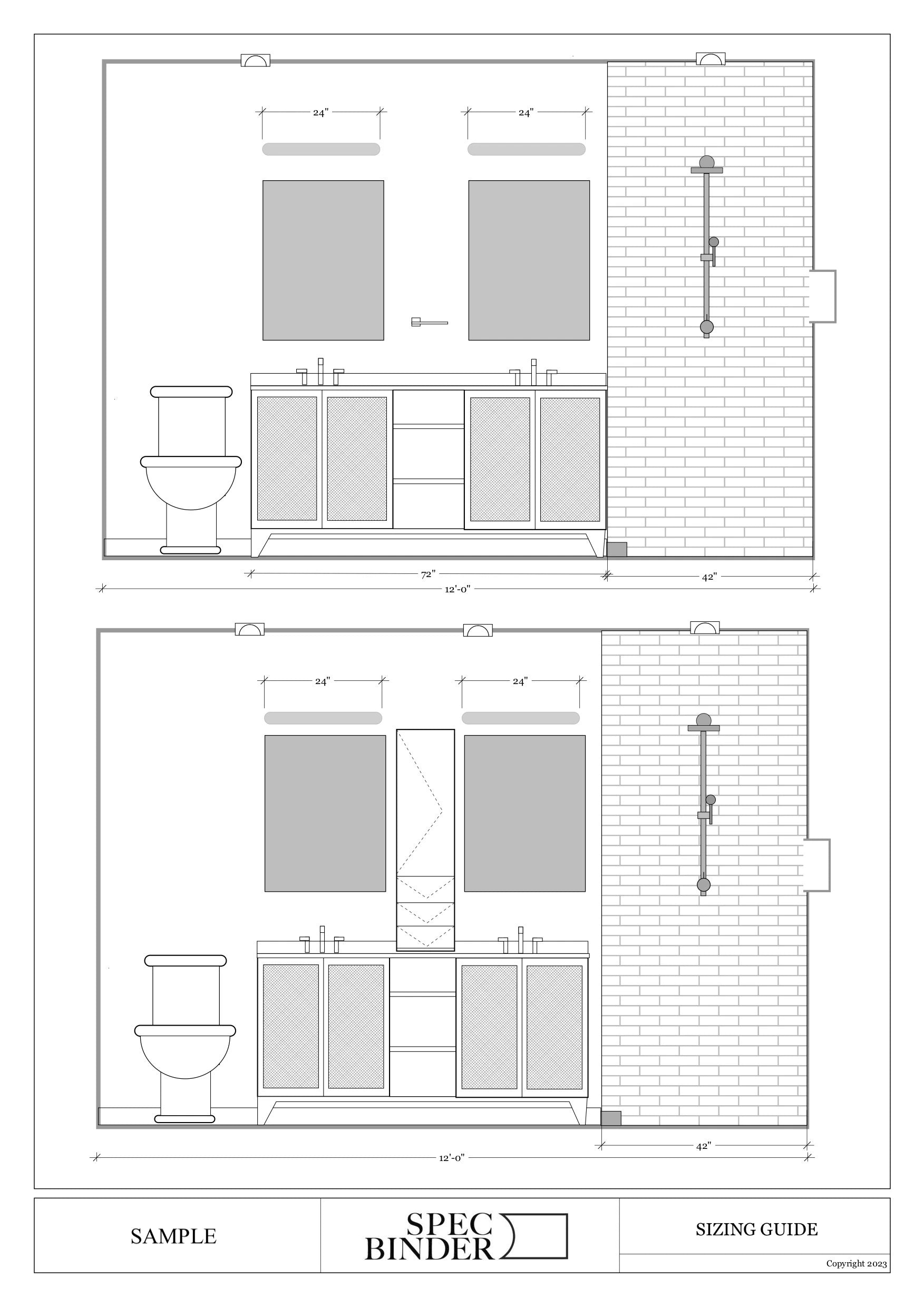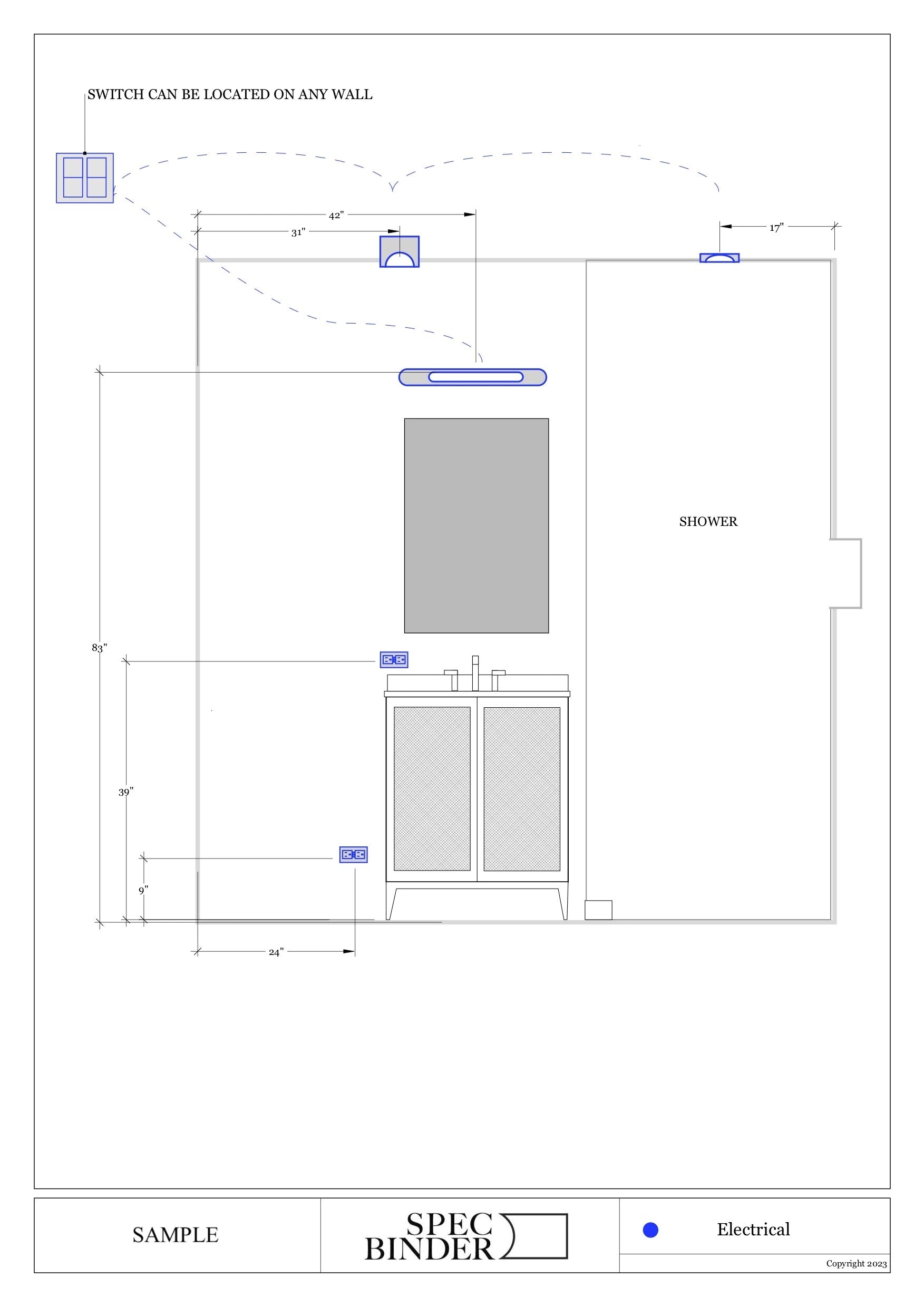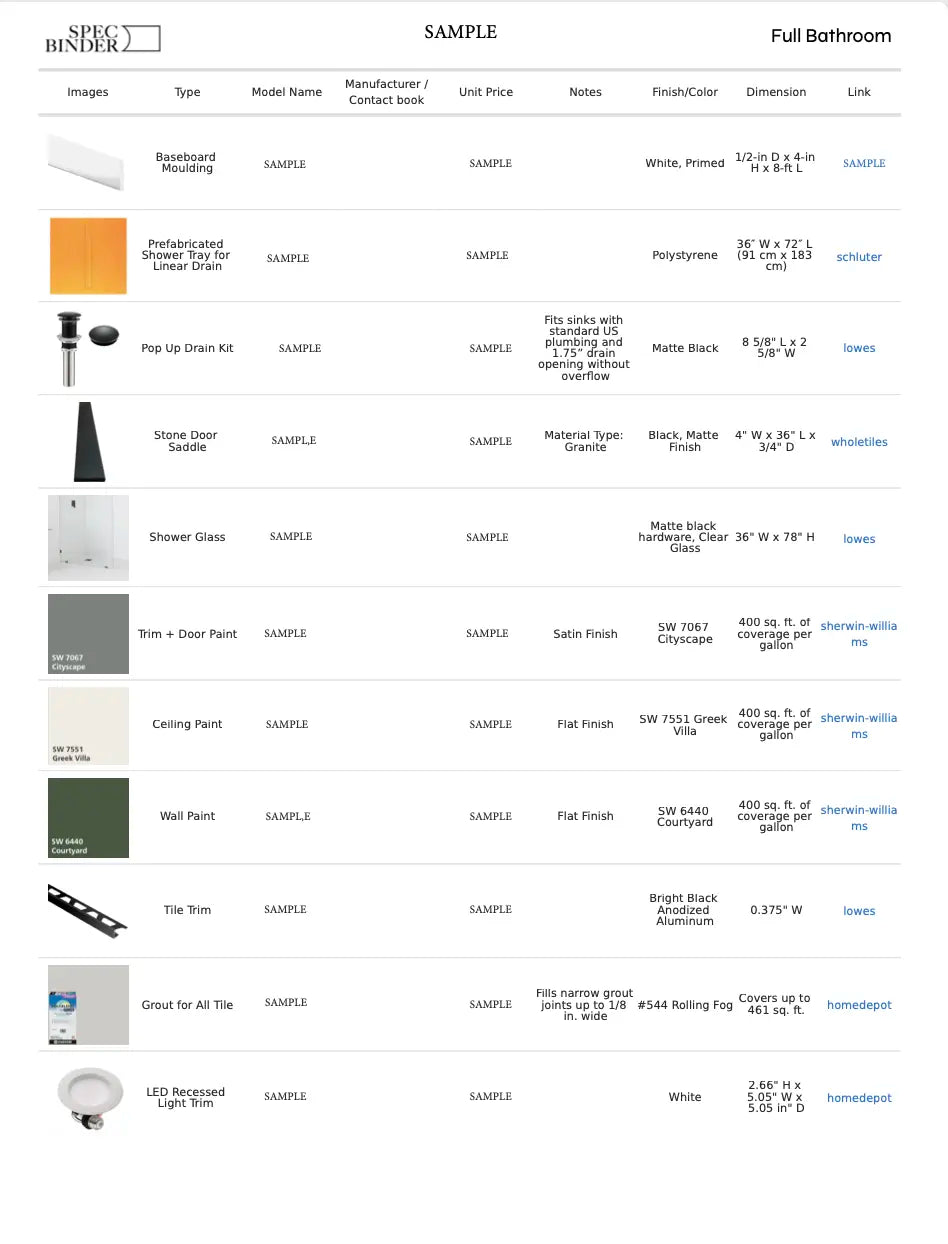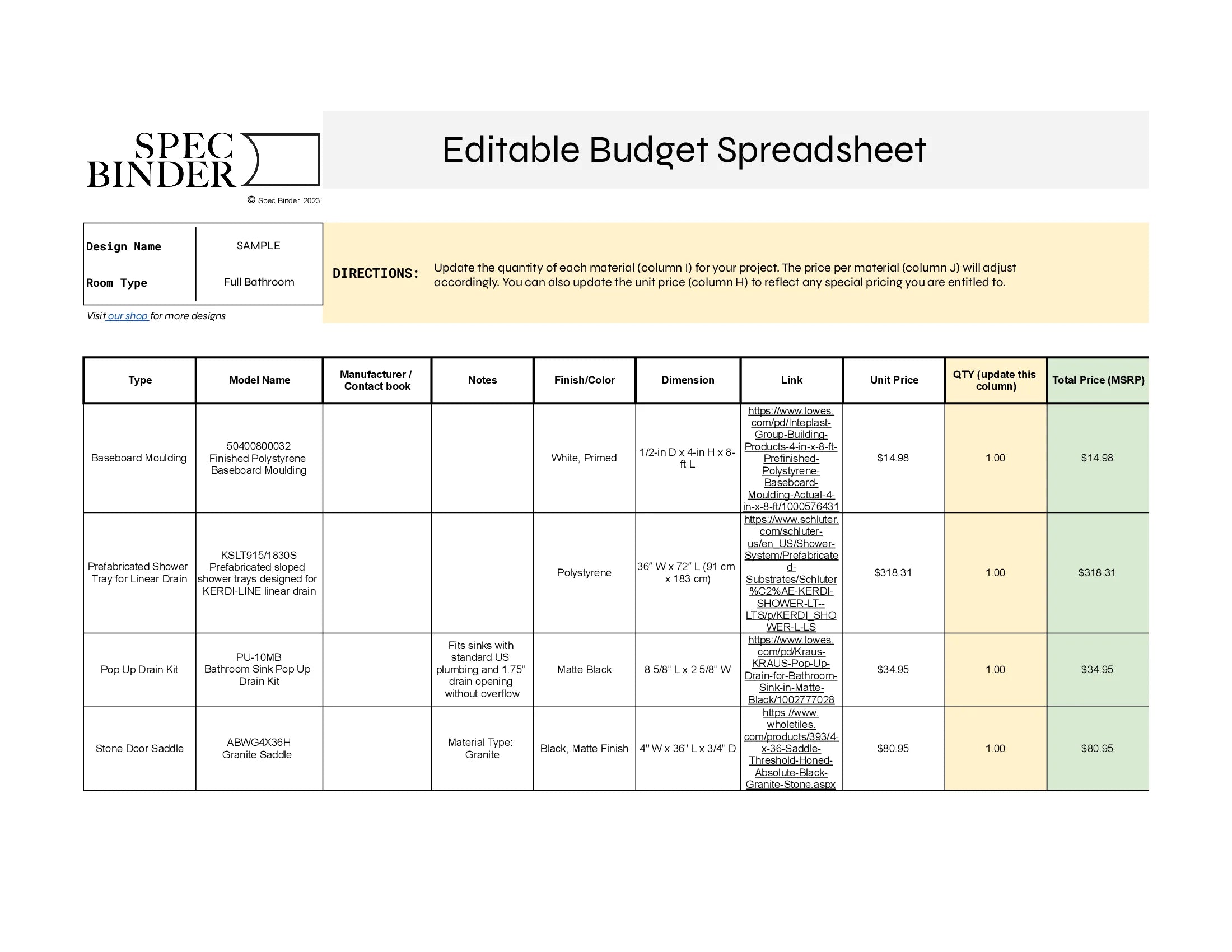 FAQs
I am a homeowner. Can I buy this or is my contractor supposed to do it for me?

Either, or. You are welcome to buy any design on our website and use it with your contractor. If your contractor signs up for our Pro plan, they will be able to give you a discount you can use when you make a purchase.
What does the cost to execute mean?

This is an estimate of what all the materials in the design will cost, per square foot. This pricing estimate does not include the cost of labor or material transportation. It also does not include any special pricing your contractor may be entitled to.

Providing your contractor with these documents will help them give you an accurate bid that includes materials and cost of labor.
How can I be sure this design will work in my specific space?

Spec Binder designs are specific to material finishes and therefore are adaptable to a variety of spaces regardless of layout. The designs can help a contractor accurately bid your job and can also be used during the construction and installation process.

If you have more questions about how the design will work in your space, schedule your free 30 minute consultation with our team of designers! We can help you envision the space, make additional product recommendations based on your taste, and swap out materials based on any restrictions in your space. You'll see a link to schedule time in your order confirmation email.
Can I change a part of the design or substitute a material selection?

Absolutely, you go right ahead a screw up our designs! Just kidding, of course you can make changes, and you won't even hurt our feelings. We suggest that you consult with us by phone, or with your contractor before you pull the trigger.
Helpful and clear
The documents are helpful for my clients to pick a design and the design/installation docs make sense for me and my workers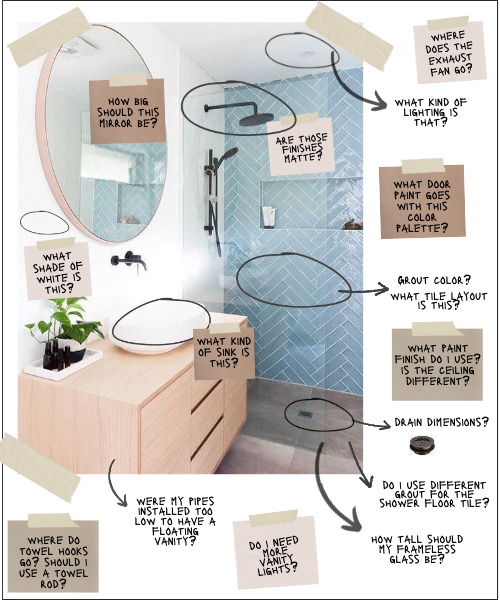 Home renovations are a mountain of tiny decisions.
And "hmmm" isn't a paint color. Get the answers you need to keep your project on time and on budget.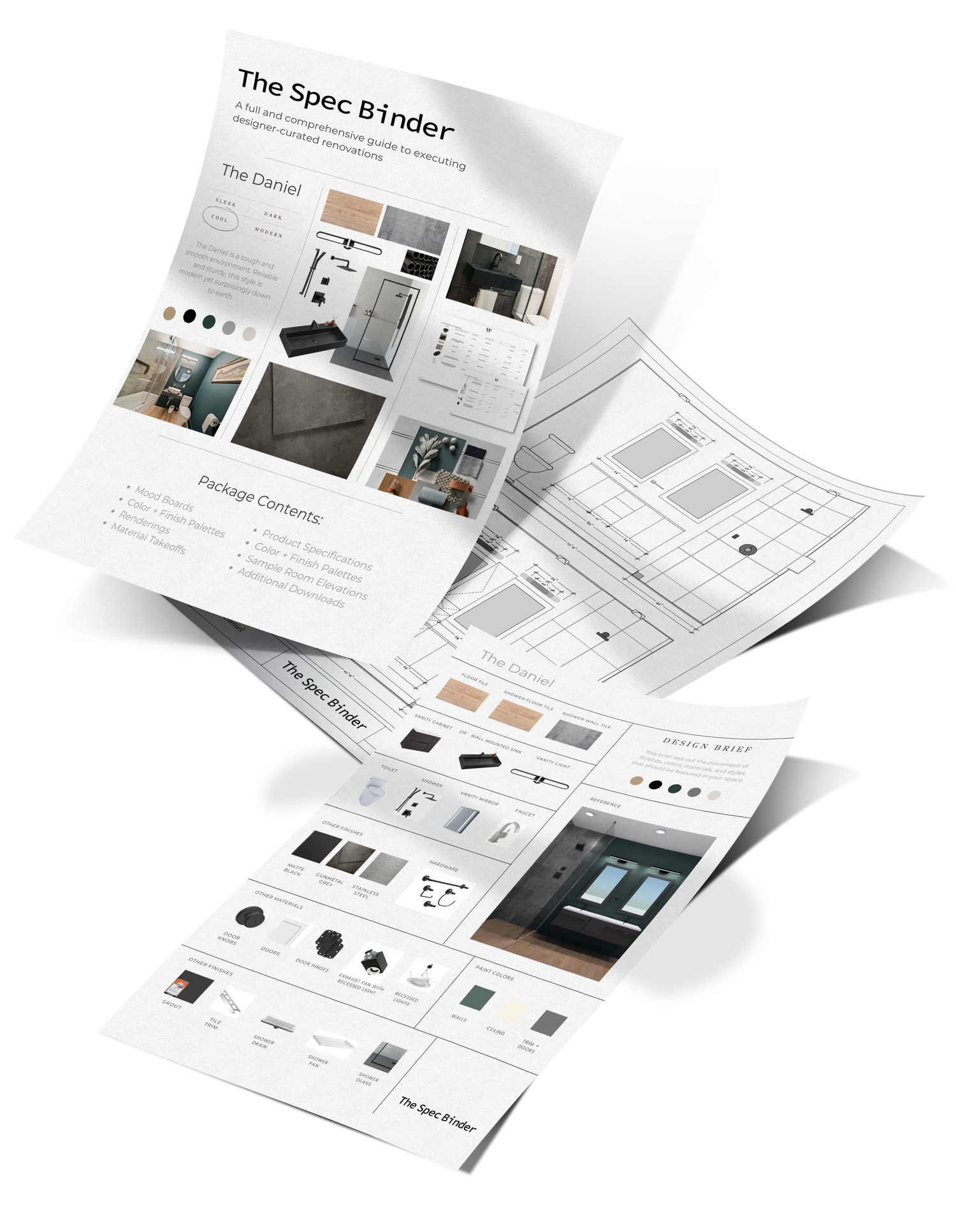 Job-site-ready documents that tell your team exactly where every tile should go.
Simplify things for your contractor. And for yourself. Get designer-curated finishing material decisions and rest easy knowing that your space will be stylish and cohesive.
Testimonials




I feel like you guys gave me a formula that took me 15 years to figure out in one download.

Paul B, Contractor
"I can now make extra money by offering my clients design services, even though I'm not an interior designer."

Josh V, Architect
"This simplified the renovation process beyond belief. I finally felt like I was in control."

Vanessa R, Customer
I could easily give this to my guys and walk away...

Chris K, Contractor