Renovation Professionals
The Spec Binder is the go-to place for ready-made, designer-curated renovation plans. With pre-sourced materials, stylish designs, and easy-to-use installation documents, you'll be able to turn your projects around quickly and affordably. Pros get 20% cash back on all sales made with their unique contractor code.


Pre-Made Exterior Finish Material Selections
Why This Works for Contractors
get all the material finish decisions you need to get to work.
Choose a design with your client and get all the information you need to do your work. Each purchase comes with a single-use license that allows you to re-sell the design one time. This allows you to bill like a design-build firm without hiring additional staff. You'll have all the design documents you need plus a team of interior designers available to you at no extra charge.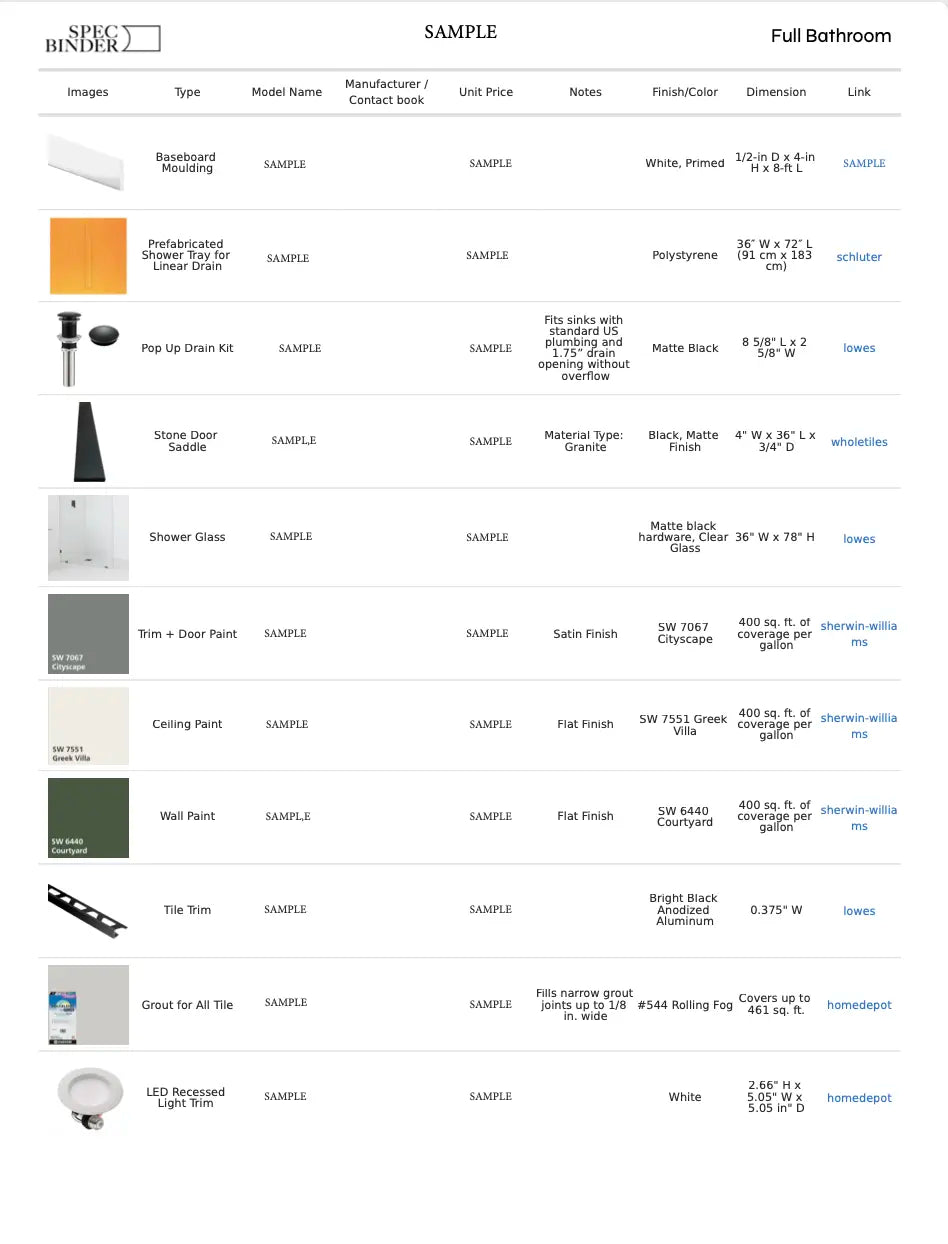 Every Material, Sourced & Selected.
With 20 years of procurement experience, our designs come pre-sourced with in stock materials so you can send it directly to your supplier. We can also place orders for you and have them delivered to your job site. This helps you get what you need, in the timeframe you need it, for the right price. No custom order bullsh*t involved.
Register Now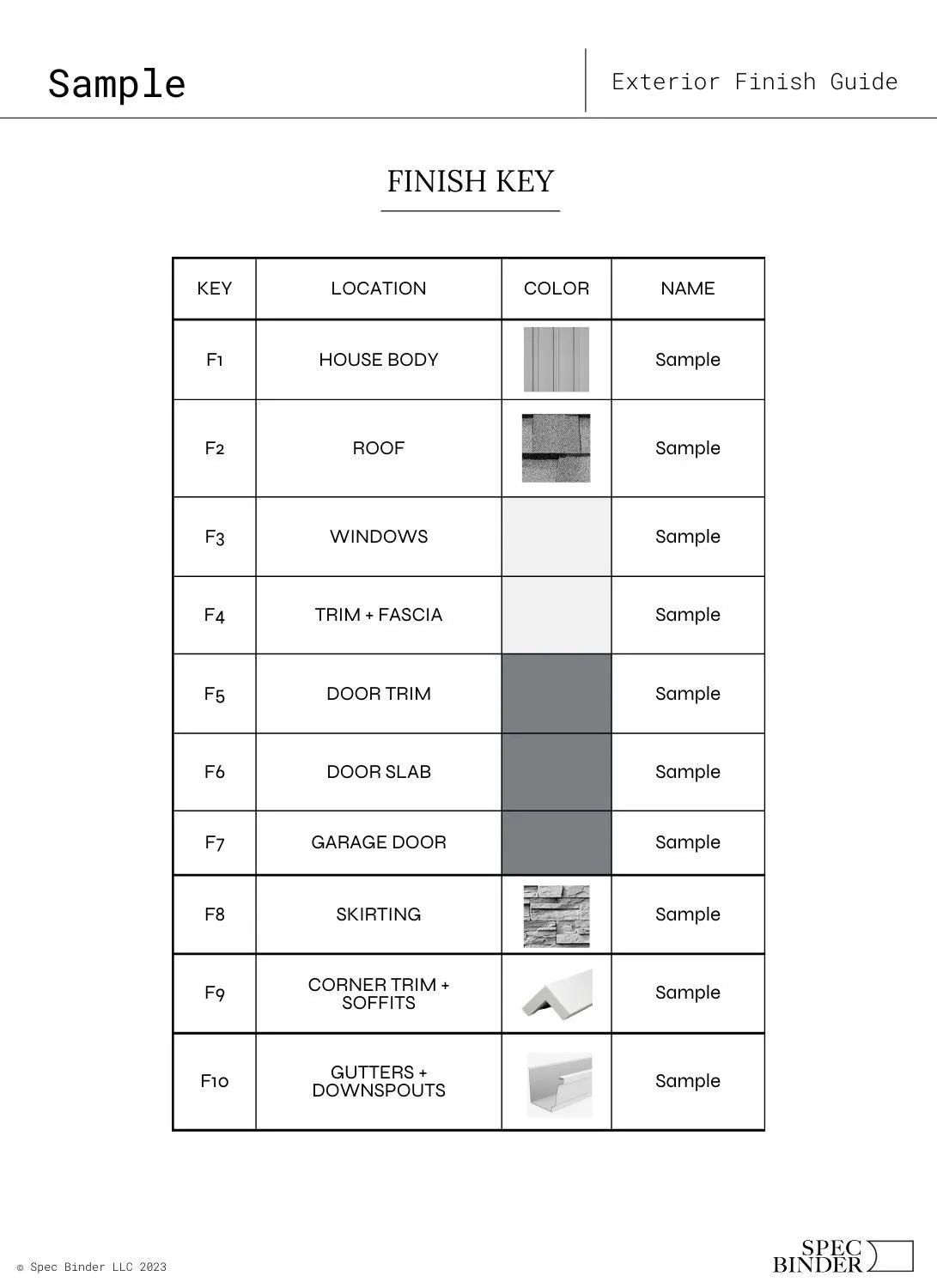 Installation Ready Designs
Our documents are complete with all the details needed to install each project correctly. This means no more tedious researching or guessing what materials are needed. Just follow our plans and you'll be done in no time!
Shop Exterior Designs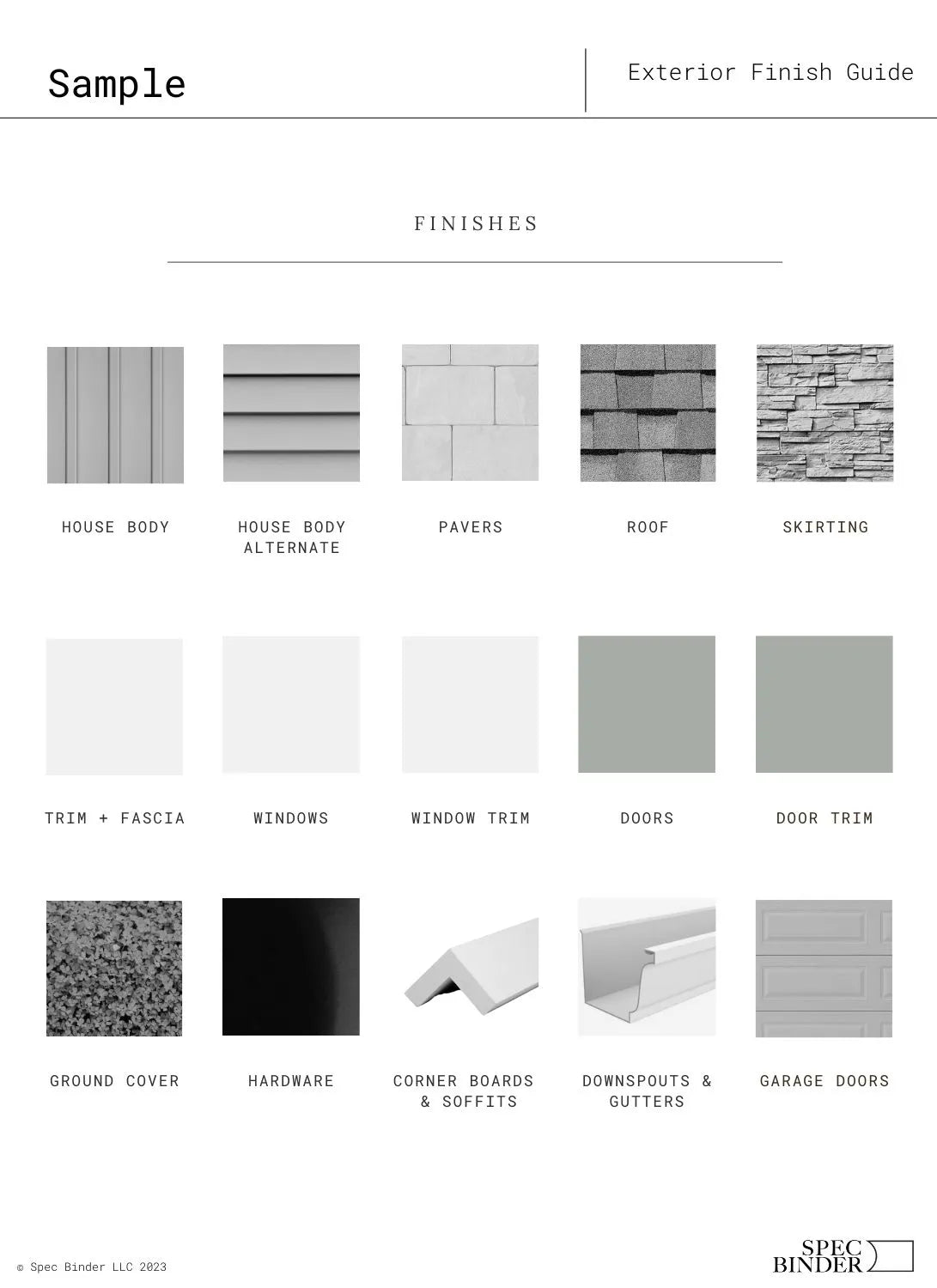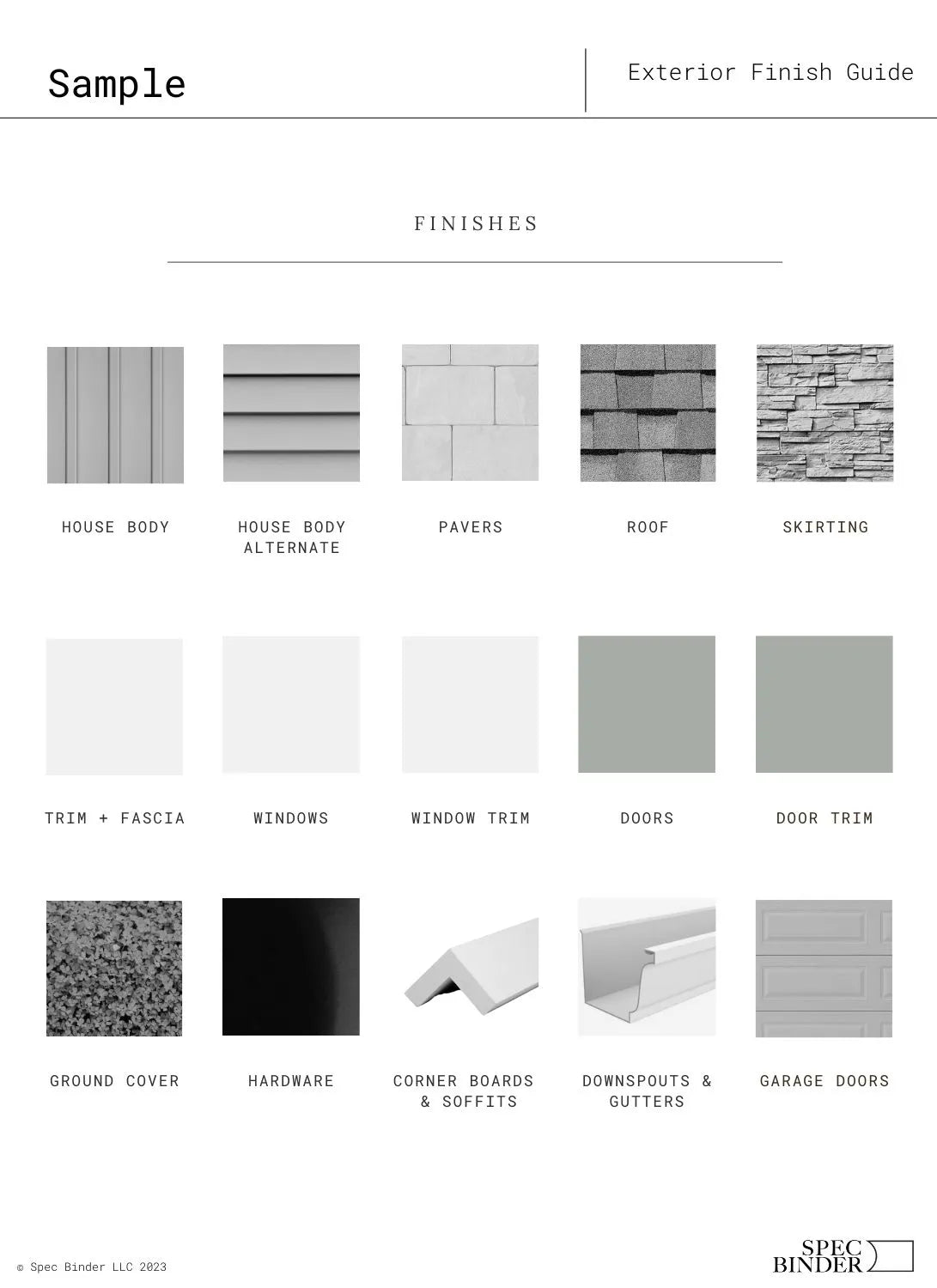 No More Waiting on Client Decisions
We understand that homeowners want quality designs that will make their homes look amazing. Our designer curated plans will help you create stunning projects that your clients will love.
Shop Palettes
FAQs
Should I buy this or should my client?

Either! We suggest that you find a design that your client likes and purchase the design for them. You can pass off the cost to your client and have the design available for you to reuse in the future.

You can purchase a design at any stage in your process - while bidding a job, or after starting work (when your client realizes they had no idea what they wanted...).

Plus, when you register (for free) as a professional, you'll get 10% off your purchase and 20% cash back on all orders made using your referral code.
Can I re-use this design in the future?

Yes! Once licensed, we encourage you to re-use our designs with future clients. We only ask that you do not re-sell our designs to other professionals (contractors, painters, etc.)
How will this make me money?

Oh let us count the ways...

Save time by not waiting for your clients to make decisions; you know exactly what materials you need and where they need to go. Your projects will stay on-time and on-budget, allowing you to make more money and have happy clients.
Bill like a design-build firm without hiring additional staff: You can charge your clients for these designs. Pass off the cost of the design to your client and then continue to charge future clients for this design service.
Get paid for every purchase made using your unique referral code: When you register as a Spec Binder pro, you'll get a unique referral code that you and your clients can use to get 10% off all purchases. You'll also get 20% cash back on each purchase made using your referral code.
Produce beautiful work that you can use as marketing material: Ugly and pretty cost the same. So why not produce beautiful, designer-made work that you can use to advertise your skills and services? This will help you attract more business and secure more jobs.
Are you sending me materials?

No - we provide documents with pre-made finishing material selections. You can source your own materials using the links in your download or by using your own suppliers.
We know there are hundreds of companies offering "perks" for professionals that don't actually provide value to your business. We aim to do things differently, so here's what you get when you register as a Spec Binder Pro:
An exclusive contractor discount code that entitles you or your customers to 10% off their purchase
20% referral fee paid directly to you each time your contractor code is used
Unlimited free design support to help with installation questions, re-configuration of our designs, or anything else you may need when using our design documents
Affiliate FAQs
Who is eligible?

We talk a lot about contractors, but we welcome any renovation professional to sign up for our affiliate program. That includes builders, architects, flippers, and designers, to name a few. We require your business' EIN at time of sign up.
How will I get paid?

Our payments are done via PayPal every month.
I have a different question

Send us a note at hello@thespecbinder.com. We'll be happy to chat!
When homeowners opt out of hiring an interior designer, they depend on you to help make design decisions. This places your business in a position of unnecessary risk because hey, you're not a f*cking designer. You have enough to worry about without having to pick the color of the baseboards. That's why we take design decisions off your plate. Our job-site-ready documents were created to be easily handed off without getting a phone call every 15 minutes. Spec Binder designs include all the installation documents you need to get to work. Your customers can now rest easy knowing what their space will look like, and you can get to work knowing that all the little design decisions have already been made.
Choosing a selection results in a full page refresh.